The 3rd International conference of the ISGC 2004
The 3rd International Conference on Gastroenterological Carcinogenesis
cooperated with
The 15th Annual Meeting of the Japanese Society of
Gastroenterological Carcinogenesis
August 19(Thu.)-20(Fri.), 2004
Royton Sapporo, Sapporo, Japan

Message and Invitation
Dear Colleagues,
Gastroenterological carcinogenesis, such as cancer of the esophagus, stomach, large intestine, liver, gallbladder, and pancreas, has been the subject of considerable research and debate in the literature. What has been lacking so far is, however, a comprehensive discussion of the whole digestive organ as a common site of origin of these cancers rather than on an individual basis. Against this background, the Japanese Society of Gastroenterological Carcinogenesis (JSGC) and the International Society of Gastroenterological Carcinogenesis (ISGC) were established respectively in 1989 and in 1996, and both organizations have held pioneering positions and taken leading roles in the development of this field. The comprehensive investigation concerning gastroenterological carcinogenesis ultimately aims to establish multidisciplinary approaches for cancer management of the entire digestive organ, i.e., from cancer prevention to the development of multimodal treatment designs. The most outstanding and noteworthy character of the societies is, therefore, to enable the realization of trans-organ discussions on updated investigatory works among researchers regardless of their fields of specialization, whether internal medicine, surgery, pathology, oncology, basic research, or clinical medicine.
Following the previous highly successful scientific meeting of ISGC (International Conference on Gastroenterological Carcinogenesis (ICGC)) in Germany in 1999, I am now pleased and honored to host the third ICGC in Sapporo, Hokkaido, scheduled from August 19th to 20th in 2004. The ICGC will be held in cooperation with the 15th Annual meeting of the JSGC. The conference, therefore, promises to provide great opportunities to communicate with experts and researchers gathered together from every research field around the world to promote and stimulate future studies.
On this occasion, I cordially invite you to join us and submit your latest research works to the ICGC. Surely many of you have devoted much time toward the progression of your research field as well as finding it quite time consuming to obtain knowledge in related fields solely by your own efforts. I am confident that your participation in this congress will serve as the quickest way to access worldwide research findings pertinent to your speciality or related fields in addition to maximizing chances to gain extensive knowledge and insights for your perspective. Come and join us for a wealth of valuable information!
Sapporo is located in the northern part of Japan, and enjoys a pleasant climate with low humidity even in August. It is also one of the most popular summer resort areas in Japan. Visitors will find magnificent scenery and relaxing hot springs (hot spas) within easy driving distance. We can promise you a most memorable stay in Japan.
I look forward to seeing you in Sapporo and hearing about your research.
With best regards,
Michio Kaminishi, MD.
President of the Third ICGC
Organization
The International Society of Gastroenterological Carcinogenesis Officers
President: Michio Kaminishi (University of Tokyo, Tokyo, Japan)
President Elect: Bernard Levin (U.T. MD Anderson Cancer Center, Houston, USA)
Past President: Hans G. Beger (University of Ulm, Ulm, Germany)
Secretary General: Eiichi Tahara (Radiation Effects Research Foundation, Hiroshima, Japan)
Treasurer: Wataru Yasui (Hiroshima University, Hiroshima, Japan)
ICGC'04 Local Organizing Committee
President: Michio Kaminishi
Advisory Members: Keizo Sugimachi Eiichi Tahara Takeshi Ohara
Organizing Committee Kozo Imai (Chairman)
*Program Committee Kozo Imai (Chairman)
Masao Omata
Masae Tatematsu
Hisao Ito
Masaki Mori
Morito Monden
Koichi Hirata
Wataru Yasui
*Financial Committee Koichi Hirata (Chairman)
Akira Terano Masayoshi Mai Masao Omata
Secretary General Shoji Shimoyama
Secretariat:
Department of Gastrointestinal Surgery
Department of Surgical Metabolic Care and Endocrine Surgery
Graduate School of Medicine, The University of Tokyo
7-3-1 Hongo, Bunkyo-ku, Tokyo, 113-0033 Japan
Phone: +81-3-5800-9730
Fax: +81-3-5800-9731
General Information
Dates: August 19(Thu.)-20(Fri.), 2004
Venue: Royton Sapporo
Kita-1 Nishi-11, Chuo-ku, Sapporo, 060-0001 Japan
Phone: +81-11-271-2711 Fax: +81-11-207-3344
Official Language: English
Scientific Information
Symposia Themes:
・Inflammation and Carcinogenesis
・Cancer Chemoprevention
・Invasion & Metastasis
Preliminary Program Overview (Tentative)
August 18 (Wed.)
Registration & Business Meetings
August 19 (Thu.)
Special Lecture
Symposia
Luncheon Seminar
Poster Presentation
Satellite Seminar & Reception
August 20 (Fri.)
President Lecture
Symposia
Luncheon Seminar
Poster Presentation
Call for Papers
Call for papers will be provided in the 2nd Circular, which will be distributed in February, 2004.
Social Events
ICGC'04 Reception
August 19, 2004
*Details will be announced in the 2nd Circular
Travel Tips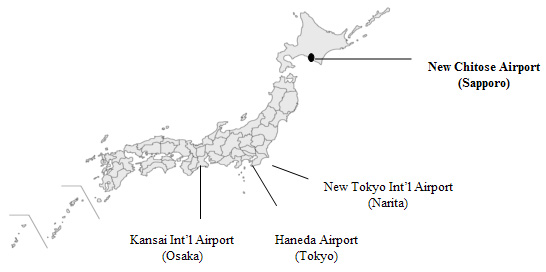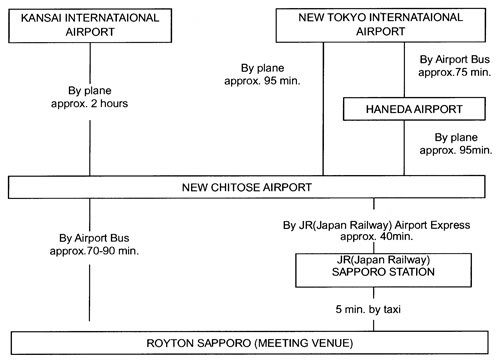 Official Travel Agent
JTB Corp.
Int'l Travel Division
Phone: +81-3-5796-5441
Fax: +81-3-5495-0681
Important Dates
Call for Papers (2nd Circular)
February, 2004
Abstract Submission Deadline
May 15, 2004
Notification of Abstract Acceptance
June, 2004
Hotel Reservation Deadline
July 15, 2004
---